our trustees
cynthia cowling ~ current chairman
Appointed as a Trustee in November 2014

cynthiacowling27@hotmail.com

As a radiographer and educator who trained in England at Guy's Hospital, studied and worked in Canada as an educator and radiographer and who now lives and works in Australia, Cynthia will bring a global perspective to WRETF. Her abiding passion for the radiography profession and her fellow professionals, has led her to serve with the ISRRT as Director of education, running workshops in the Americas, Africa and Asia Pacific regions. Her professional work has also allowed her to work closely with radiography colleagues throughout the world, gaining a better understanding of the needs for the ongoing improvement and enhancement of radiographic education. She says: " I hope through my contacts with universities and educational programmes worldwide, I may be able to work with other WRETF Trustees to achieve its goals".
---
Alan budge BA, FBIR ~ Honorary treasurer
Appointed as a Trustee in 2007
Honorary Treasurer since October 2012
abudge@btinternet.com
or
alanbudge@wretf.org
Alan has worked in the Healthcare Industry for all his working life,
since joining 3M in 1974.Since then he has held sales and marketing positions
in Imation, Kodak, Ferrania, Agfa HealthCare UK and more recently, CSC which incorporated iSOFT Healthcare.
He has had a long association with the British Institute of Radiology (BIR) and was instrumental in founding the Mayneord Memorial Lecture, back in 1983, which was until recently supported by Agfa HealthCare UK. He has been a Trustee and Council Member of the BIR since 1998 and was Honorary Treasurer of the BIR.
"The Trust has a first class approach to education and training in developing countries and I hope that I can contribute in some small way ". While Alan was working for Agfa he organised the sponsoring of the printing of the new
WRETF leaflets in 2008, a feat he was able to repeat in 2012.
---
marie-dominique galy ~ Diploma in Radiography
Appointed as a Trustee in April 2014

marie-dominique.galy@wanadoo.fr

Marie-Dominique was born in Morocco - her father was in the army at the time in Morocco. She returned with her family to France in 1958 and has lived in Marseille since then. She first studied in a college in Marseille, then went to university in Aix en Provence before preparing for a degree as a radiographer. She has worked in public hospitals for her entire career. This has meant supervising student radiographers which she enjoyed. She is now Regional President of the Marseille region of the AFPPE, through which she was asked to consider becoming a Trustee of WRETF. She says that having enjoyed the supervisory role, she now regularly organises training courses for both student and qualified radiographers and is pleased to be involved with a charity progamme that is related to her profession. Her knowledge of English, she feels, will also be an asset when promoting the work of the Trust with French-speaking partners.
---
chris steelman ~ MS, RT(R), (CI), RCIS
Appointed as a Trustee in July 2014
csteelman@x-rayintl.org
Chris' diverse experiences provide him with a unique perspective on the fields of medical imaging and education. After 18 years of managing people and projects on the business side of the healthcare arena, Chris became a radiologic technologist. An active member of the profession, he participates in many areas. Chris is proud to serve as the ISRRT Regional Coordinator of Professional Practice for The Americas. He is Chairman of the American Society of Radiologic Technologists (ASRT) Cardiovascular-Interventional (CI) Chapter and participates on the ASRT Cardiovascular-Interventional Practice Standards Council Subcommittee. In addition to his work with the ASRT, Chris is a consultant to The American Registry of Radiologic Technologists (ARRT) Cardiac-Interventional (CI) Exam Committee as well as an Item Writer for the exam. He recently participated on the ASRT CI Curriculum Revision Workgroup. A member of the California Society of Radiologic Technologists Board of Directors, he also chairs the Educational Technology Committee.
With a graduate degree in Instructional Technology, Chris is focused on the challenge of increasing access to education in the developing world. He is driven by his belief that through creative partnership, localized design and intelligent technology integration, it is possible to develop and sustain world-class healthcare training in the developing world. As the Instructional Technology Systems Manager for RAD-AID International, he is currently developing methodologies for the efficient development and distribution of e-learning content. Chris has recently co-authored a chapter titled
Radiologic
Technologists Role in Global Health Radiology
, for the book
Radiology in Global Health: Strategies,
Implementation, and Applications.
Chris is passionate about radiography and educational technology and addresses audiences on both topics at conferences several times a year.
---
ian henderson~fcr, dcrr, msc, pgche
Appointed as a Trustee in December 2016
Ian.Henderson6dt@gmail.com
​
Ian​ Henderson has been involved in radiography education since 1991 and until 2016 was Head of Radiography at Robert Gordon University having previously been a principal lecturer at London South Bank University. His main area of professional interest relates to radiographic workforce development and health policy. He currently undertakes health education and workforce consultancy, and acts as an assessor for the College of Radiographers Approval and Accreditation Board. He is European Education Coordinator for the International Society of Radiographers and Radiological Technologists, and sits on the Society and College of Radiographers Scottish Council. A former UK Council member and President of the Society and College of Radiographers, he has worked with this body in promoting professional issues for radiographers, contributing to a range of policy documents including development of the curriculum framework for radiography; the joint document with the Royal College of Radiologists; 'Team Working Within Clinical Imaging (2007)' and the 6th Edition of the RCR publication; 'Making Best Use of Clinical Radiology Services'.
---
robert shen ~ M.S., RT (Dx-VIR)
Appointed as Trustee in April 2017
tishen@yahoo.com

Robert (Bob) from Taiwan, has served in various roles both nationally and internationally. His links and contacts with international organisations brings enormous strength to WRETF. He is keen to work with all Trustees to reach the goals of the Strategic Plan.
he says: "I have been serving as Coordinator of Public Relations for A/A regional Committee of the ISRRT. For the long term, I have had a good relationship with those regional member societies or medical radiation technologists' related organisations, of which, more than 20 countries are involved. For the past two decades, I have attended most of the meetings or conferences held by the aforementioned organisations. As a result, I've been able to meet and get acquainted with several key figures within the respective MRT societies in many countries. I maintain good relationships with them even as years have passed on. I would even fund myself to join many of their events.

According to the goal and mission for WRETF, I think I can be serving as a liaison for all developing countries. As a Trustee I will ensure visible representation of WRETF in key projects or educational missions and functions, especially in countries where Radiography or medical imaging is in lesser developed status."


---
Sue Marchant ~jp, HDCR, BA (open), fbir, General Manager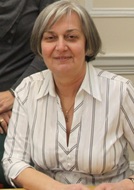 Appointed as Trustee in 2010
Honorary Secretary since December 2010. General Manager from December 2016
susanmarchant@wretf.org
Sue brings an enormous amount of experience to the Trust. She was a
superintendent neuroradiographer before moving into management of imaging services and has also been involved for some years with the British Institute of Radiology (BIR) in London, latterly as their Honorary Secretary and more recently as Chair of their Awards and Prizes Committee.
"Giving something back to the radiographer community is important to me and I am able to do this through my involvement with the Trust as one of its Trustees".
---