Pictured is Brigitte Kaviani, Assistant Operations Director in the Radiology Department of Sheffield Teaching Hospitals UK with the Radiology Manager of Gwembe Hospital in Zambia. Brigitte recently visited Zambia taking with her a number of items to help the radiographers there. Lead markers, books and other small items. See the report of her visit by selecting the Twinning button.
---
Pictured is recent bursary recipient, Elizabeth Olanloye of Nigeria with Professor Penny Engel-Hills of the Radiotherapy Department Groote Schuur Hospital in Cape Town South Africa. Elizabeth spent almost 4 weeks in July 2017, learning of radiotherapy techniques and practices that she can take back to her own department to benefit her patients. Her report of her visit can be found under the Newsfeed button and then select bursary reports.
---
Pictured is artist Doris Choi at work at the recently held 21st Asia-Australasia Conference. Donated 5 of her paintings to help raise funds for WRETF.
---
Doris Choi with Edward Wong of Hong Kong and her painting of Lychees
---
Pictured are Koffi Kouassi of Cote D'Ivoire and Cathy Thibaut of France at the recent Congress in March 2017 held in Bordeaux. Koffi is the recipient of a travel bursary award from WRETF that allowed him to attend the Congress and to make a presentation of his work. Cathy is an ambassador for the Trust.
---
Pictured is Anesue Sabeta of Zimbabwe at the PACORI Conference held in Tanzania in February 2017. Anesue is a recipient of a bursary from WRETF which enable her to attend the conference.
---
isrrt congress seoul october 2016
WRETF Trustees were well represented at the recent ISRRT Congress in Seoul. WRETF Chairman Cynthia Cowling from Australia attended along with Trustees Michael Ong of Singapore and Chris Steelman of the USA. Below are just some of the many photos of Trustees, ambassadors and the Trust's bursary recipient.
Pictured are WRETF bursary recipient Mr Gashirai of Zimbabwe with WRETF Chairman Cynthia Cowling after presenting his paper at the recent ISRRT Congress in Seoul in October 2016
---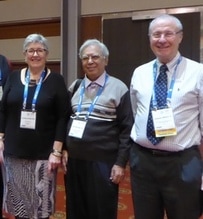 Pictured are WRETF Chairman Cynthia Cowling with recently appointed WRETF ambassador Mr Tin of Myanmar and Stewart Whitley, Treasurer of ISRRT.
---
Another picture from the recent ISRRT Congress in Seoul. WRETF Trustee Chris Steelman is pictured with WRETF Chairman Cynthia Cowling and Fozy Peer of the ISRRT.
---
Pictured is WRETF bursary recipient, Mr El Hadji Souleye Lo of Senegal attending a session at the recent conference in the Democratic Republic of Congo in September 2016. Not only was he a recipient of one of the Trust's bursaries, to enable him to attend the conference and present, but he also won an ISRRT prize, presented to him by former Trustee Dominique Zerroug pictured below with other award winners.
---
Pictured at the conference in the DRC with other award winners is former Trustee and now ambassador for the Trust, Dominique Zerroug.
---
WRETF was represented at the meeting in Las Vegas by both a Trustee and an Ambassador. Hundreds of medical imaging and radiation therapy professionals from across the USA travelled to Las Vegas for the Annual Governance and House of Delegates Meeting. Pictured are: standing from left to right - Jonathan Mazal, ISRRT Regional Director the Americas and WRETF Ambassador, ASRT Chief Executive Officer and Executive Director Sal Martino, Donna Thaler Long ISRRT Council Member, Chris Steelman, ISRRT Regional Coordinator for Professional Practice - the Americas and WRETF Trustee.
Seated left to right are - Sharon Wartenbee ISRRT Regional Coordinator for Public Relations, the Americas, and Donna Newman ISRRT Director for Professional Practice,
---
March 2016
Pictured is WRETF Ambassador Boniface Yao with students of the Bordeaux School of Radiography in South West France.
---
July 2016
Pictured are Rad-Aid and the UK's Society and College of Radiographers Outreach Fellow Dorothy Gemmell and Peter Shaba Head of the Radiography Programme at Malawi College of Health Sciences. Dorothy recently spent some time visiting Malawi. WRETF was delighted to donate some books pictured to assist with the training of student radiographers and those already working in a hospital department.
---
December 2015
Books and journals were recently donated to the Jurusan Teknik Radiodiagnostik and Radioterapi Politeknik in Indonesia. Pictured is Jeffri Ardiyanto - lecturer - with some of his students.
---
September 2015
Pictured is Mr Sarker - radiotherapy technologist of Dhaka, Bangladesh - during his educational visit to the Tata Memorial Hospital in Mumbai, India. Mr Sarker was a recipient of the Trust's bursary scheme and received financial help to make a two week visit during September 2015 to Mumbai to learn more of up to date radiotherapy techniques, which he wants to bring back to his own department to benefit his patients.
His report of his visit is to be found under the Newsfeed button.
---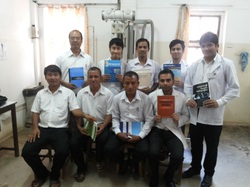 July 2015
Pictured are the staff of the United Mission Hospital Tansen, Palpa in Nepal, with some of the books recently donated to the department by WRETF.
---
Pictured at the workshop ran by the ISRRT on Image Interpretation co hosted by Rwanda, between June 22nd and June 25th 2015 in Kigali, are Cynthia Cowling, WRETF Trustee and Boniface Yao, ISRRT Regional Director of Africa.

The principal instructors at the workshop were Dr Ian Cowan ( radiologist) and Cynthia Cowling. Boniface Yao attended the event and informed the 80 participants about the WRETF and it's good works.


---
The President of the British Institute of Radiology- Dr David Wilson -joined Alan Budge, Sue Marchant and Catherine Muchuki for a photograph at ECR
---